PSP Picks: Our Top Albums of 2021!
December 22, 2021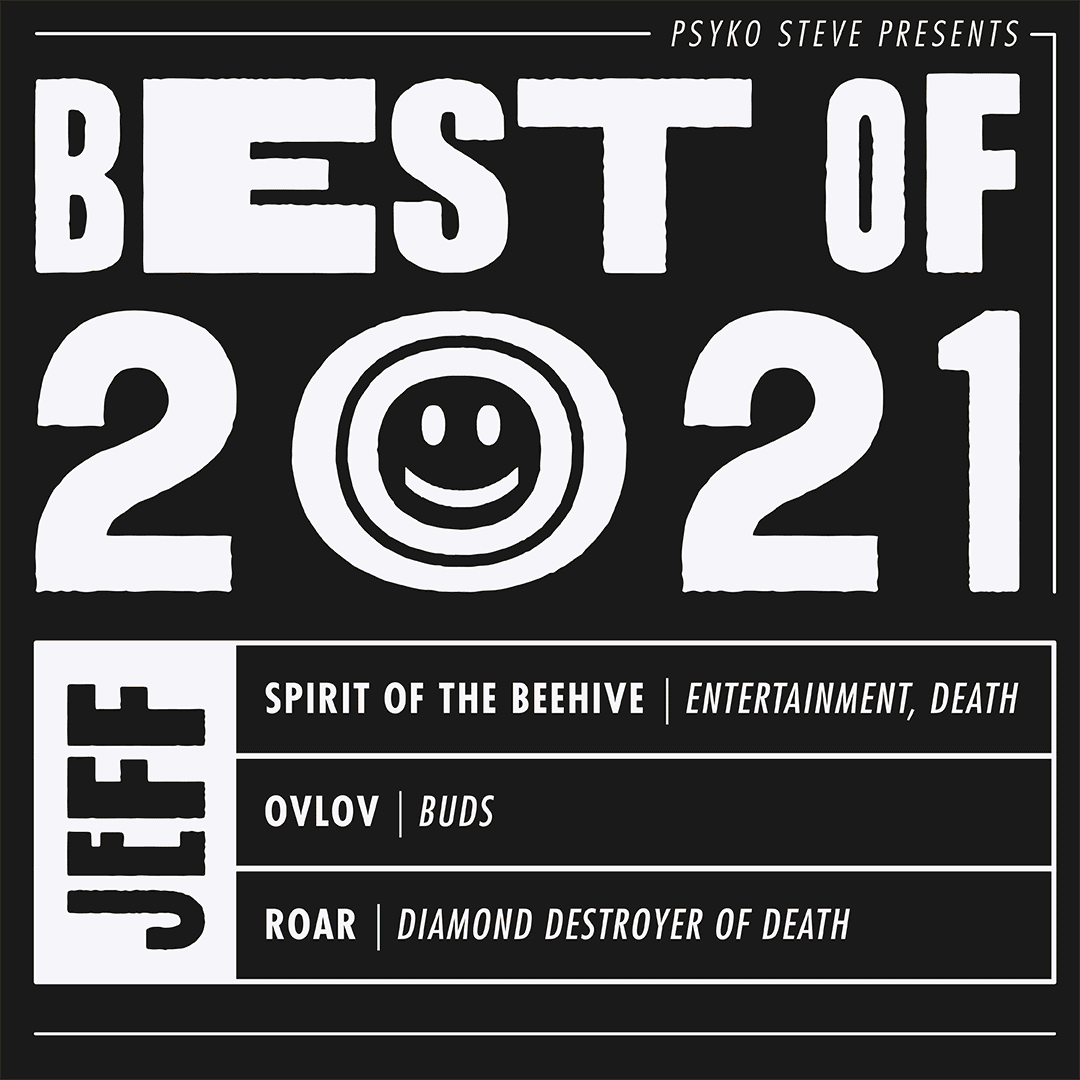 STEVE
owner
Foo Fighters – Medicine At Midnight
The Maine – XOXO: From Love & Anxiety In Real Time
Sydney Sprague – maybe i will see you at the end of the world
JEFF
talent buyer
Spirit Of The Beehive – Entertainment, Death
This band has been an overall fave for the last few years, so I had a lot of hype around the new album out this year on Saddle Creek… it did not disappoint. Some of my favorite SOTB jams are on this newest lp; I could live inside "Give Up Your Life" – the ability to get lost in the universe they create with each album is something I've always appreciated about this band. Highly recommended listen.

Ovlov – Buds
Ovlov is another group that has taken over my headphones the last few years consistently – Buds just came out near the end of the year, but has been in very heavy, regular rotation since it came out. Love everything Steve Hartlett does – under his name, Ovlov, Stove, etc… hoping one of these projects makes it out west in 2022.

ROAR – Diamond Destroyer Of Death
This year ROAR released what I think is their most solid album to date. This album interweaves concepts, melodies, and lyrics in a pretty unique way – which ultimately ends up making the album feel more like a narrative story or journey than a 29 minute album. The individual songs can stand on their own, but the overall impact of a front-to-back listen makes it tough to just pick out a song or two for a playlist.

Honorable mentions:
Porches – All Day Gentle Hold !
Sam Evian – Time To Melt
Pile – Songs Known Together, Alone
BOBBY
talent buyer
CHVRCHES – SCREEN VIOLENCE
I didn't expect to fall in love with this record as much as I did. It's poppy, vulnerable, honest, and got me through the busy fall season of concerts.
THE MAINE- XOXO: FROM LOVE & ANXIETY IN REAL TIME
Anyone who knows me knows how much I love this band so I'm not going to say much besides Listen to "Sticky" and "Dirty, Pretty, Beautiful"
GRAYSCALE – UMBRA
This band made a major leap with this record. They showed they weren't just a pop punk band they created a pop masterpiece, and the songs are perfect in every way. Listen to "King of Everything" or "Bad Love"
DAN
marketing manager
Japanese Breakfast – Jubilee
Drake – Certified Love Boy
Tyler, the Creator – Call Me If You Get Lost
MCKENNA
graphic designer
Scary Pockets, Swatkins – Harder, Better, Faster, Stronger
The second this song comes on my feet leave the floor, my eyes start glowing, and I become completely possessed by the power of funk. A full-bodied cover of Daft Punk's 2001 classic featuring not only a talkbox but an entire big band – it's hands down my favorite song of the year.
Del Water Gap – Del Water Gap
This self-titled album has had me in a chokehold since it was released in early October and shows no signs of letting go. "Bug Bites", "Perfume", and "Hurting Kind" take the cake, but Jaffe's entire discography is a treat worth indulging in.
Ashnikko – DEMIDEVIL
This album will make you want to break up with your boyfriend and start a crime syndicate with every overtly nice girl you've ever met in a public bathroom. Steeped in chaos and raunchy lyrics, my personal favorites include "Slumber Party (feat. Princess Nokia)", "Toxic", and "Drunk With My Friends".
Honorable Mentions:
Woody and Jeremy – Gravy in My Coffee
Sammy Rae & The Friends – Let's Throw A Party
SHEA
ticketing / box office lead
Still Woozy – If This Isn't Nice, I Don't Know What Is
Still Woozy was, according to Spotify Wrapped, my most played band of 2021 and I stand by it. The Lately EP and the string of singles that preceded it just weren't enough after a while. I wanted more and Sven delivered. I'd be lying if I said a couple of songs off of this album didn't play while I was writing this.
Top songs: That's Life, Get By, and Get Down.

Turnstile – Glow On
This release definitely feels like they're drawing from the same source of inspiration that created Angel Du$t and I'm INTO it. It's been 3 long years since their last album release, and while it's likely that nothing will ever top the hold that Nonstop Feeling had on the hardcore scene, Glow On proves that they're not willing to let that stop the progress. There's a glow up joke somewhere in here but I'm not willing to fish it out.
Top Songs: Holiday, Blackout
Foxing – Draw Down the Moon
Foxing is my favorite band – my number one, my ride or die. I've seen them play at The Rebel Lounge for every release since The Albatross and boy, they just keep getting better. I don't have anything terribly insightful to say about it, just give it a listen.
Top Songs: 737, Go Down Together, Bialystok

Honorable mentions:
Gus Dapperton – Orca
Lil Nas X – Montero
James Blake – Friends That Break Your Heart
CAMRYN
administrative assistant
"I didn't listen to many full albums released this year, so I'm going with individual tracks released this year."
Luke Hemmings – Starting Line
This was one of the first new songs I listened to this year and it's definitely my favorite. It was cool to hear someone I've been listening to since I was 15 sing about growing up and time passing in a relatable way.
Coldplay x BTS – My Universe
This song brought me together with friends from all over the country unexpectedly this year, so it has a special place in my heart!
NCT 127 – Favorite (Vampire)
I didn't love this song at first, but it grew on me. The harmonies in the chorus are super uncommon, I think, and it's really satisfying to listen to. The music just sounds so big, if that makes sense.
MICAH
promoter rep
Charley Crockett – Music City USA
As someone who isn't traditionally the biggest country listener. this album was a very nice surprise earlier this fall.
Kaytranada – Intimidated EPA
groovy Kaytranada EP with a thundercat feature, what's not to love.
Brent Faiyaz – Gravity (single)
Great production, nice Tyler feature and angelic vocals