Incoming: Vacations, The Bronx, Hotel Ugly, SIAMES, and more on sale now
August 8, 2022
This week we announced FOXY SHAZAM, LUNA LUNA, BRASS AGAINST, THE BRONX, SIAMES, MUSTARD SERVICE, and much more – all are on sale now!
We're excited about the shows coming up this next week, like FOXING, JHARIAH, LIGHT A FIRE: BATTLE OF THE BANDS + more.
Check it all out below!
---
JUST ANNOUNCED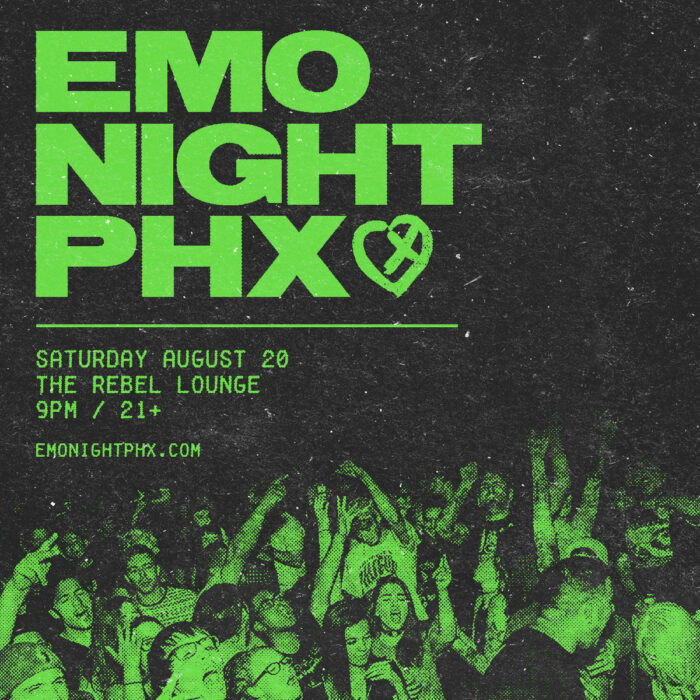 ---
THIS WEEK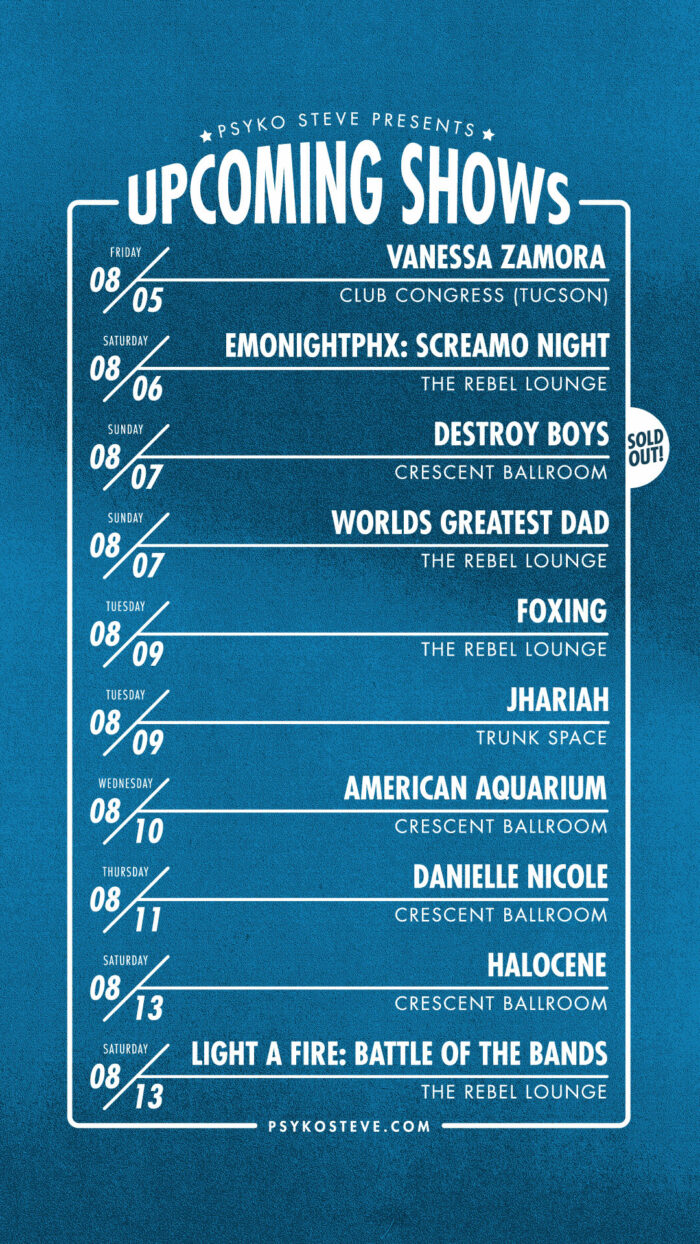 ---
Staff Picks
DAN MICHALEGKO – Foxing – August 9 at The Rebel Lounge
"I'm pumped for Foxing next week! Draw Down The Moon is a fantastic album, and 'Go Down Together' is one of my favorite songs of 2021. If you're a fan of Modern Baseball, America Football, or any other sports-related midwestern emo band, be sure to check out Foxing!" 🎟
CAMRYN VATISTAS – Foxing – August 9 at The Rebel Lounge
"I chose Foxing on behalf of Psyko Shea (she didn't ask, but I'm a really good friend) since they're her favorite band and she can't write the same staff pick twice in a row. I know she's a Foxing vet, so I went straight to 'The Medic' and it did not disappoint. Maybe I, too, can have a religious experience next Tuesday thanks to Foxing." 🎟
STEPHEN CHILTON – American Aquarium – August 10 at Crescent Ballroom
"If you like Americana you should LOVE American Aquarium. Singer BJ Barham is the real deal. We have had them and BJ solo at Rebel Lounge a few times and the shows have always been great. True Troubadour. For anyone who likes Jason Isbell, Lucero, or Drive-By Truckers." 🎟
JEFF TAYLOR – Loving – August 19 at Valley Bar
"Loving is one of my favorite bands of the last few years. Their debut album from 2016 rules, and I think they took it up a notch with the follow-up 'If I Am Only My Thoughts' that came out just weeks before covid changed all of our lives. I spent a lot of time that year with their peaceful tunes, and I'm really looking forward to seeing them perform again in a few weeks." 🎟
MCKENNA FOSDICK – Loving – August 19 at Valley Bar
"Loving's music feels soft and grainy, like plugging your headphones into a canister of expired film. Take a listen and romanticize your precious little life. Then buy tickets to the show, and romanticize that too." 🎟
SHEA RUCH – Joyce Manor – August 27th at The Van Buren
"I could sit here and tell you my listening history for Joyce Manor like I do with every other pick, but I'm not going to. If you know them, you know why this show is so exciting – the lineup, the venue, the new album. If you don't, listen to (in this order!) '5 Beer Plan', 'Constant Headache', 'Catalina Fight Song', 'Fake I.D.', and 'Gotta Let It Go'. Then buy your ticket. You're welcome." 🎟
ALEXA GRAVES – The Devil Wears Prada – August 28 at The Nile Theater
"The Devil Wears Prada is one of the best metalcore bands right now. They've stayed consistent and continue to drop great music that feels authentic. I'm really looking forward to seeing them play live for the first time. If you haven't heard this band yet, I suggest you start with my favorite song, 'Chemical'. I hope they play it at the show!" 🎟
---

---