Incoming: Kevin Devine, ho99o9, Thursday, Mayday Parade, and more
February 11, 2022
Huge week ahead with Thursday, Mayday Parade, Knuckle Puck, and more!
Plus tons of amazing announces this week like Kevin Devine, Ho99o9, and Wednesday.
Find more info on future shows below and enter to win a pair of tickets to Koffin Kats next Friday!
---
JUST ANNOUNCED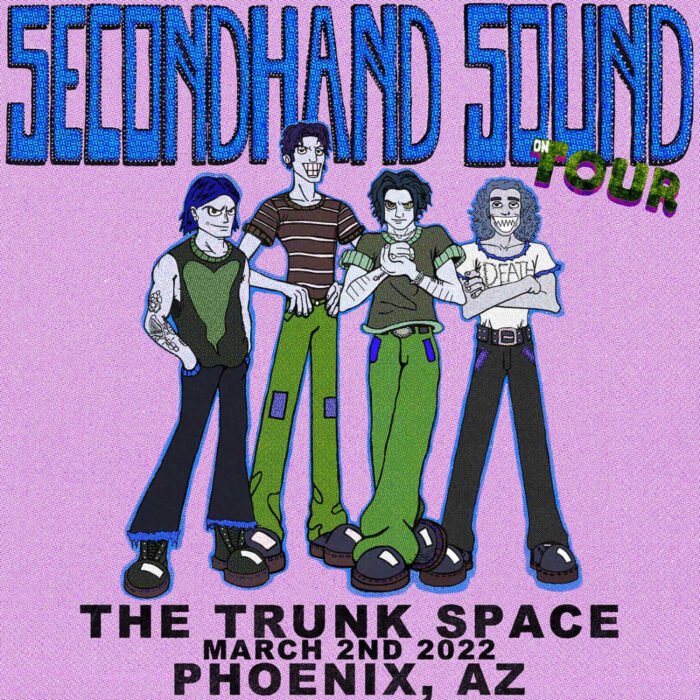 ---
THIS WEEK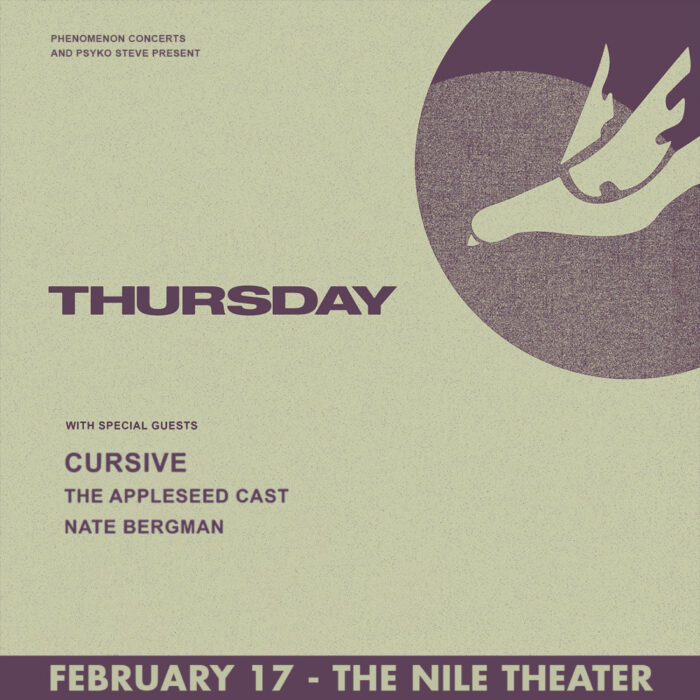 ---
STAFF PICKS
MCKENNA FOSDICK – Briston Maroney – February 15 at The Rebel Lounge
"If you know me, then you know there is zero chance I'll be anywhere but deep in REM sleep at 10 pm on a Tuesday. Unless there's a Briston Maroney show, in which case I'll be throwing elbows and openly weeping in the front row with the rest of the indie kids of the greater Phoenix area. The show has been sold out for months so I hope you got your ticket – this is not the one to miss." SOLD OUT
STEVE CHILTON – Thursday – February 17 at The Nile Theater
"I don't know the last time we did a show with a lineup 17-year-old me would be so excited about. I am pretty sure I was a fan of all of these bands before I ever started doing shows…. and that doesn't happen often these days. I remember finding The Appleseed Cast on an Emo Diaries compilation CD and loving them. I saw Thursday on their first tour to AZ and enjoyed them, then when Full Collapse came out a short while later I was just blown away."
CAMRYN VATISTAS – Mayday Parade – February 18 at The Van Buren
"Mayday Parade was my first ever emo/pop-punk show, so I'm really excited to see them at The Van Buren! Their new album, What It Means To Fall Apart, is good and I love the upbeat mood of the first three tracks, but good ol' Jersey will always have my heart."
BOBBY HENDRIX – Mayday Parade – February 18 at The Van Buren
"I'm stoooooooooked to see Mayday Parade celebrate 11 years of their self titled record. 'Stay' still tugs at the heartstrings and brings me back to a much simpler time…a time when Instagram was new, Tumblr was popular, and Warped Tour existed. Also, Real Friends being on the bill is rad as hell and I can't wait to see them for the second time with their new singer. Their latest EP deserves more recognition for its vulnerability, great songwriting and overall growth as a band."
JEFF TAYLOR – Deafheaven – February 22 at The Rebel Lounge
"I really like the sonic shift Deafheaven made with their latest album Infinite Granite – they're going to sound absolutely massive at Rebel. It's great that Holy Fawn is going to be support on the tour too. This will be a great, very loud show." SOLD OUT
SHEA RUCH – Deafheaven – February 22 at The Rebel Lounge
"There's a handful of artists that I always make a point to see when they come to town – Deafheaven tops that list. Sunbather was my blackgaze awakening. It led to my love of other bands like Ghost Bath, Whirr, and Nothing. I could honestly credit a large portion of my music taste to them, whether direct or roundabout. Their stage presence is unparalleled – heavy fog, diffused lighting, and the ethereal movements of frontman George Clarke make for more of an experience than just a concert. 11/10, don't miss this." SOLD OUT
DAN MICHALEGKO – Naked Giants – February 22 at Valley Bar
"Very excited for this show! Naked Giants have such a great sound; I love the garage rock and indie blend. Do yourself a favor and take a listen to The Shadow, their latest album. This is the perfect show to see at Valley Bar." 
---
EmoNightPhx is back next Saturday at The Rebel Lounge!
Featuring Foreign Bodies performing a Saosin / Circa Survive cover set, plus guest DJ sets by Marcus Rushmore (of Let Alone), Marcus and Timo (of This Modern) and Zima Blue!
Visit EmoNightPhx.com for more info and tickets.
---
---
---
---
---
NEW RELEASES
---
LOW TICKET WARNING
3/7 – GUARDIN – The Rebel Lounge
4/7 – CAVETOWN – The Marquee Theatre
4/16 – HALOCENE – The Rebel Lounge
5/27 – THE WARNING – The Rebel Lounge
11/30 – ALASKA 5000 – Crescent Ballroom
---
MORE UPCOMING SHOWS
3/2 – SCARY KIDS SCARING KIDS / D.R.U.G.S. – The Marquee Theatre
3/6 – JUST FRIENDS – The Rebel Lounge
3/6 – THE SWORD – Crescent Ballroom
3/8 – TOUCHE AMORE – The Rebel Lounge
3/11 – SHAWN JAMES – Crescent Ballroom
3/15 – UNCLE ACID & THE DEADBEATS – Crescent Ballroom
3/21 – LEPROUS – The Nile Theater
3/27 – MODERN ENGLISH – The Rebel Lounge
4/4 – PINEGROVE – The Nile Theater
4/6 – 10 YEARS – Crescent Ballroom
4/6 – SUMMER SALT – Club Congress (Tucson)
4/8 – RIVERSIDE – The Nile Theater
4/10 – POINT NORTH – Valley Bar
4/13 – BEACH BUNNY – The Nile Theater
4/25 – THE MENZINGERS – Crescent Ballroom
5/3 – DON BROCO – The Nile Theater
5/25 – THE PINEAPPLE THIEF – Crescent Ballroom
6/24 – CIRCLE JERKS – The Van Buren
8/1 – THE DEAR HUNTER – Crescent Ballroom
9/9 – CULTS – Crescent Ballroom