Announcing the 9th Annual Phoenix Rock Lottery – February 4, 2023, at Crescent Ballroom
January 20, 2023
The Phoenix Rock Lottery returns on February 4th!
Psyko Steve Presents The 9th Annual Phoenix Rock Lottery
to be held on Saturday, February 4th at Crescent Ballroom in Downtown Phoenix.
25 musicians will start the day… 5 bands will end it!
---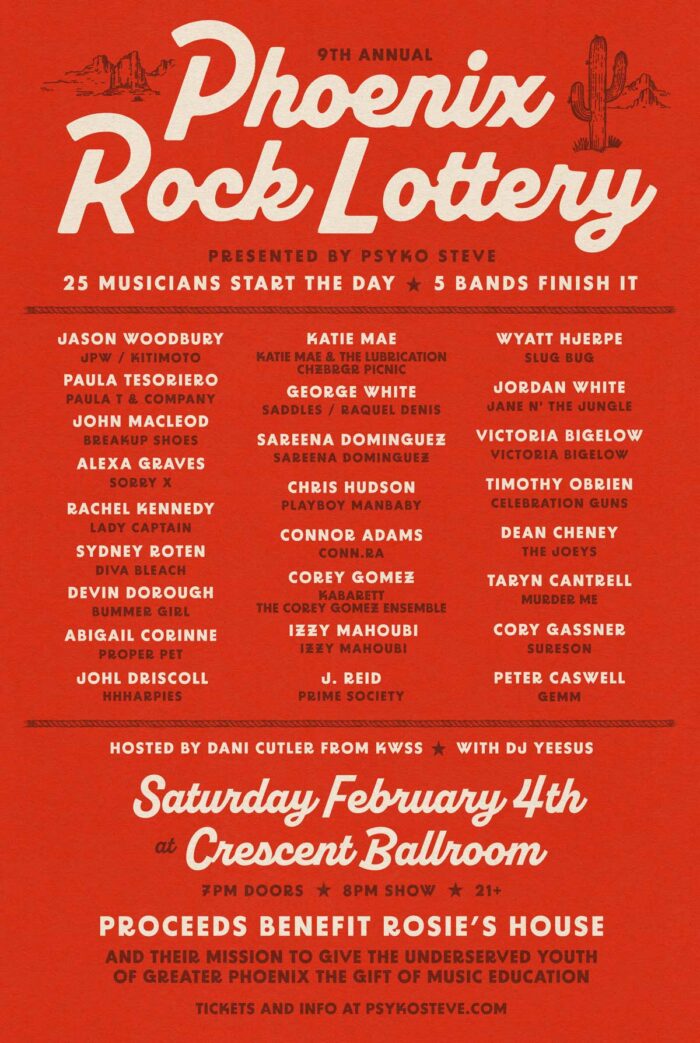 ---
Twenty-five of Phoenix's best musicians will randomly be grouped on the morning of February 4th to form five new bands. Each group of musicians will write original songs that day, learn a cover, and perform their new set live to a packed Crescent Ballroom crowd that night! Don't miss out on Phoenix music history, all for a great cause. Proceeds of the Phoenix Rock Lottery benefit Rosie's House, a local non-profit organization that delivers the underserved youth of the greater Phoenix area the gift of music education through instruments and free instruction. Tickets are available now at psykosteve.com and CrescentPhx.com.
---
About The Phoenix Rock Lottery:
Each year, the Phoenix Rock Lottery features a lineup of musicians from diverse backgrounds and musical styles. These musicians deliver a unique experience for fans due to the unpredictable nature of the event. The participating musicians show up on the morning of the Rock Lottery each year with no idea who they will be in a band with, what style of music they will play, or what songs they will perform, since they will write the songs that day.
Bands are created at random on the morning of February 4th by drawing names from a hat. The five new bands will then have that day, and that day only, to write and rehearse a set of songs to perform live in concert that night at Crescent Ballroom. Each band will write three original songs and choose a cover song to perform.
The 2023 Phoenix Rock Lottery will feature an entirely new group of musicians. No musicians from the previous lotteries were included, although a number of performers come from bands previously represented in years past, like Diva Bleach, Playboy Manbaby, and Celebration Guns.
"What excites me about this year is how many new artists are involved," said Phoenix Rock Lottery producer Stephen Chilton of Psyko Steve Presents. "The first year I knew every artist really well personally from working with them for years. Nine years later, many of the artists playing are very new and I just know their art or their band. I don't know some as well yet individually this year, but they are every bit as talented. There is so much great new music happening in Phoenix right now, and this event is perfect for showing that off. I hope people come and discover something new."
Some of this year's artists include John MacLeod of Breakup Shoes, Chris Hudson of Playboy Manbaby, and Jordan White of Jane N' The Jungle. Some newer faces involved in the Rock Lottery are Alexa Graves of Sorry X, Devin Dorough of Bummer Girl, Abigail Corinne of Proper Pet, and Wyatt Hjerpe of Slug Bug.
This year the event will be hosted by Dani Cutler of KWSS. Cutler hosts the morning show on KWSS every weekday from 6 am-10 am MST and a 70-90's "retro" music hour called Dani's Diner on weekdays at Noon MST. Between bands, local DJ Yeesus AKA Justin Yee will be spinning vinyl, featuring some of the best recorded music from Phoenix's local scene. Yee is a local photographer and DJs regularly at The Churchill and other downtown favorites.
The Phoenix Rock Lottery has received plenty of praise over the years. The first Phoenix Rock Lottery, held at Crescent Ballroom on February 9th, 2014, was named "Best Club Show in Phoenix 2014" in the Phoenix New Times "Best Of Phoenix" issue. They described the event as "yielding goods that had Phoenix feeling pretty damn great about its music scene." The 2015 solo 7" series by Jimmy Eat World's Jim Adkins included the song "Love Don't Wait," originally written during that first lottery. In 2016, the band Wet Lab, formed in the 2nd Phoenix Rock Lottery, released formal recordings of two of the songs they wrote together on cassette via the new local label Saint Joseph. The single was prominently marketed nationally as part of that year's Cassette Store Day.
A video recap of a past Phoenix Rock Lottery can be seen here: https://www.youtube.com/watch?v=CvbYEZT34hM&t=1s
About Rosie's House:
For the ninth year in a row, the proceeds of the Phoenix Rock Lottery will benefit Rosie's House, a local non-profit organization that delivers underserved youth of the greater Phoenix area the gift of music education through instruments and free instruction.
Rosie's House: A Music Academy for Children is committed to playing a pivotal role in a child's future and strengthening our community. Rosie's House is a free music academy for children facing economic adversity in Phoenix, many of whom have no other access to music education. Rosie's House believes music education creates hope, fuels the imagination, sparks creativity and is a powerful force for social justice and vitality in our community. We bridge achievement in life through achievement in music, and through music, we support youth as they develop their full creative and personal potential. This year, Rosie's House will serve over 550 youth each week with our creative youth development program, including: 25,000 free music lessons, over 450 instruments loans, 7,500 free meals to students and their siblings, and over 60 concert and performance opportunities, all offered to students at no cost to their families.
"The Phoenix Rock Lottery is a unique and local event that supports the mission and students of Rosie's House. 100% of proceeds benefit our mission of providing equitable access to music education for youth who are economically disadvantaged. Specifically, the event generates enough revenue to underwrite one group piano class with 14 students. We know that the musicians involved in the Phoenix Rock Lottery share in our belief that no student should be denied access to music education because of their economic status – we are honored that this annual event helps us make music possible for more youth in Phoenix," said CEO Becky Bell Ballard.
"For the past 8 years, the Phoenix Rock Lottery has showcased the creativity of our local music community and I can't wait for year 9! It never ceases to amaze me at how much talent is in the Valley, and how charitable Phoenix musicians are. I am also always so impressed by the risk-taking, vulnerability and collaboration that is happening on the stage. It is an event that each year has surprises and moments of brilliance, and for the audience it is a once in a life-time event as the make-up of the bands, the musical selections, and the new songs created will only be onstage for one evening," said Ballard.
When asked about Rosie's House's plans for the near future, Ballard replied, "It is an exciting time of growth for Rosie's House! We are continuing to expand our impact through increased enrollment and program offerings, including two new classes: Music Explorations, a high-impact bi-lingual class for our youngest learners ages 4-6, and Percussion Ensemble which introduces students grade 5th and up to drumming rhythms and styles from around the world, as well as traditional drumline and classical percussion. We are honored by the support of our local community to continue to execute on our mission and our values of access, excellence, community and creativity."
---
Complete list of musicians performing in the 2023 Phoenix Rock Lottery:
Jason Woodbury (JPW / Kitimoto)
Paula Tesoriero (Paula T & Company)
John MacLeod (Breakup Shoes)
Alexa Graves (Sorry X)
Rachel Kennedy (Lady Captain)
Sydney Roten (Diva Bleach)
Devin Dorough (Bummer Girl)
Abigail Corinne (Proper Pet)
Johl Driscoll (hhharpies)
Katie Mae (Katie Mae & The Lubrication / Chzbrgr Picnic)
George White (Saddles / Raquel Denis)
Sareena Dominguez (Sareena Dominguez)
Chris Hudson (Playboy Manbaby)
Connor Adams (conn.ra)
Corey Gomez (Kabarett / The Corey Gomez Ensemble)
Izzy Mahoubi (Izzy Mahoubi)
J. Reid (Prime Society)
Wyatt Hjerpe (Slug Bug)
Jordan White (Jane N' The Jungle)
Victoria Bigelow (Victoria Bigelow)
Timothy OBrien (Celebration Guns)
Dean Cheney (The Joeys)
Taryn Cantrell (Murder Me)
Cory Gassner (Sureson)
Peter Caswell (GEMM)
Show Details:
Psyko Steve Presents
The 9th Annual
PHOENIX ROCK LOTTERY
Saturday February 4, 2022
Crescent Ballroom
Doors: 7:00 PM, Show: 8:00 PM, 21 and over
Tickets are $13 in advance and $15 day of show
Tickets available at psykosteve.com & CrescentPHX.com
Info: https://bit.ly/rocklottery2023
Rosie's House: https://rosieshouse.org
Make a donation to Rosie's House: https://support.rosieshouse.org/give/192481/#!/donation/checkout
---

About Psyko Steve Presents:
Psyko Steve Presents started producing concerts in Arizona in 2000. Psyko Steve Presents (PSP) has always strived to develop new artists and work with acts before anyone else. Over the years, PSP has worked with artists such as Frank Turner, Ghost, Bleachers, Thrice, Future Islands, and Jimmy Eat World.
Today, Psyko Steve Presents is a full team producing over 700 concerts a year, from local shows to festivals like last year's ZONA Music Festival and 8123 Fest. The inaugural ZONA Music Festival was a two-day multi-genre boutique festival with a strong emphasis on local artists in Hance Park in Downtown Phoenix. PSP owner Stephen Chilton also owns and manages The Rebel Lounge in Central Phoenix. In 2019, Psyko Steve Presents was named "Best Promoter" by the Phoenix New Times.
In 2020, Stephen Chilton became a founding board member and Vice President of the National Independent Venue Association (NIVA), successfully lobbying Congress to pass the Save Our Stages Act, providing a crucial lifeline for venues and promoters nationwide.