8123 Fest Full Lineup Announced & No Fees Sale Happening Now
December 22, 2021
8123 FULL LINEUP ANNOUNCED
NO FEES FLASH SALE HAPPENING NOW!
The Sonoran Roots Stage lineup is here, featuring
This Wild Life, Breakup Shoes, Weathers, Doll Skin, The Color 8, and Sundressed!
Joining The Maine, State Champs, The Summer Set, 3OH!3 and more on January 22 in Hance Park. For a limited time, buy your tickets with no fees. Here's the perfect opportunity to give a rad last-minute holiday gift.
---
---
UPCOMING SHOWS
Don't miss our New Year's Eve bash at The Rebel Lounge!
'22 & good 4 u' a dance party for lovers of Taylor Swift and Olivia Rodrigo. Admission includes a champagne toast at midnight!
$22 Advance
$70 Good 4 U Bundles (4 tickets)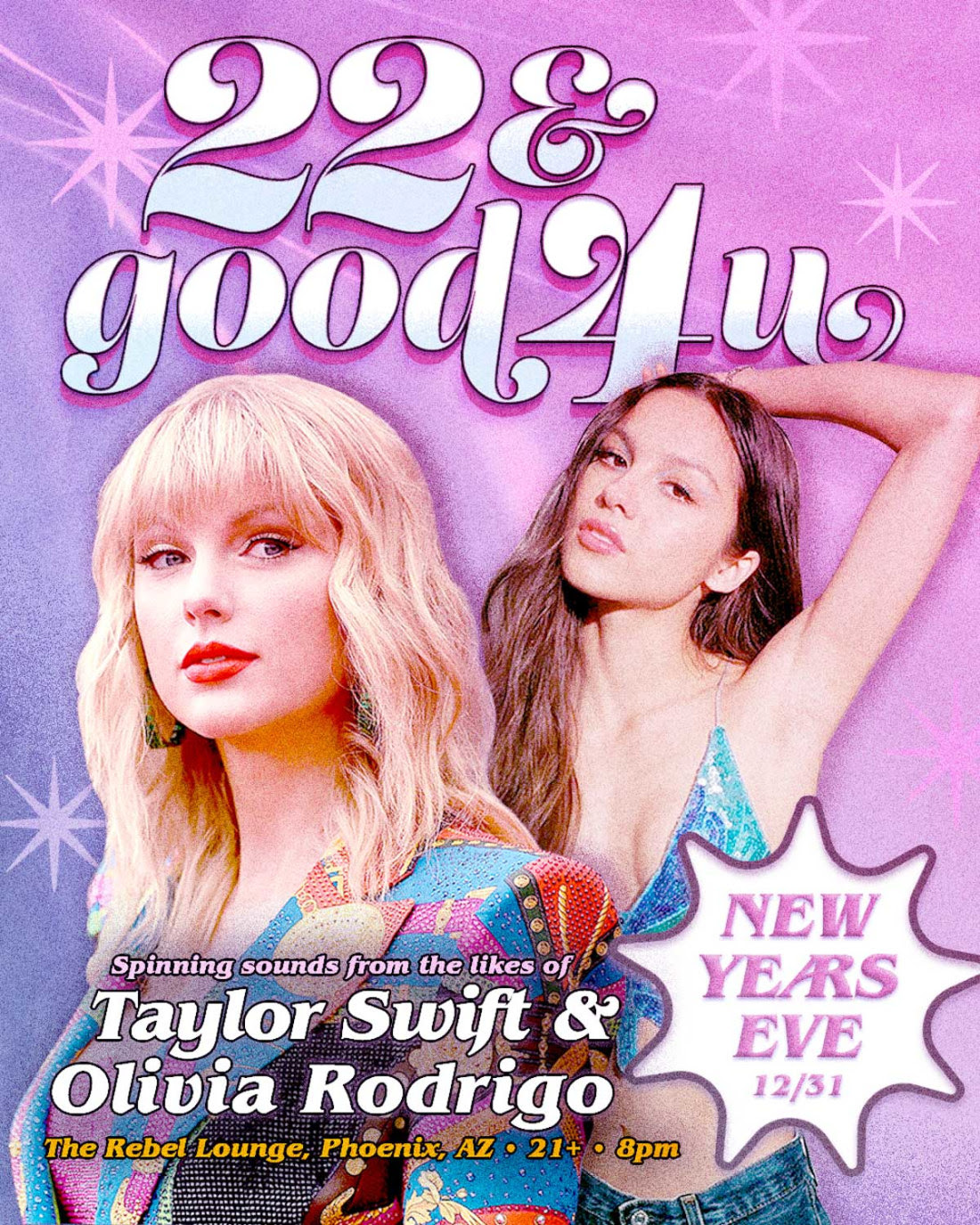 1/4 – THE UNLIKELY CANDIDATES – Crescent Ballroom
1/14 – EL TEN ELEVEN – Crescent Ballroom
1/15 – CELEBRATING THE LIFE & MUSIC OF STEFAN PRUETT – Crescent Ballroom
1/22 – 8123 FEST – Margaret T. Hance Park
1/25 – ALL THEM WITCHES – Crescent Ballroom
2/4 – HUNNY – Crescent Ballroom
2/18 – MAYDAY PARADE – The Van Buren
2/17 – THURSDAY – The Nile Theater
2/18 – CULTS – Crescent Ballroom
2/22 – DEAFHEAVEN – The Rebel Lounge
2/24 – ALASKA 5000 – Crescent Ballroom
2/28 – KNUCKLE PUCK – The Nile Theater
3/2 – MANCHESTER ORCHESTRA – The Van Buren
3/2 – SCARY KIDS SCARING KIDS / D.R.U.G.S. – The Marquee Theatre
3/6 – THE SWORD – Crescent Ballroom
3/7 – THE DEAR HUNTER – The Nile Theater
3/11 – SHAWN JAMES – Crescent Ballroom
3/15 – FU MANCHU – The Rebel Lounge
3/15 – UNCLE ACID & THE DEADBEATS – Crescent Ballroom
3/21 – LEPROUS – The Nile Theater
3/27 – MODERN ENGLISH – The Rebel Lounge
4/4 – PINEGROVE – The Nile Theater
4/7 – CAVETOWN – The Marquee Theatre
4/8 – RIVERSIDE – The Nile Theater
4/13 – BEACH BUNNY – The Nile Theater
4/25 – THE MENZINGERS – Crescent Ballroom
5/3 – DON BROCO – The Nile Theater
5/25 – THE PINEAPPLE THIEF – Crescent Ballroom